This article provides comprehensive information about the Sewayojan UP NIC online portal. It covers various aspects, including the Seva Yojna portal login process, the Rojgar Sangam's objectives, and other details related to the facilities offered on the Seva Yojna portal. 
What is Sewayojan?
The Uttar Pradesh state government has introduced the Seva Yojana portal to offer employment opportunities to the unemployed youth within the state. This portal features a wide array of both government and private job listings accessible to the state's young job seekers. Sewayojan holds a significant role in addressing unemployment issues among the state's youth.
As we are well aware, India grapples with a high number of unemployed youth, prompting the government to launch various initiatives in each state to create employment opportunities for them. Today, we are here to shed light on the Uttar Pradesh Unemployment Fair 2023.
Highlights of sewayojan.up.nic.in:
Here, we offer a concise overview of the Uttar Pradesh Employment Fair, ensuring you have access to all the scheme's essential details.
| | |
| --- | --- |
| Scheme Name | UP Employment Fair (Employment) |
| State | Uttar Pradesh |
| Initiated by | Honorable Chief Minister Shri. Yogi Adityanath ji |
| Beneficiaries | Educated unemployed youth of Uttar Pradesh |
| Objective | To facilitate employment opportunities for the educated youth of the state |
| Category | Uttar Pradesh Scheme |
| Application Procedure | Online |
| Website | Visit sewayojan up.nic.in for more information |
Main Objective of Seva Yojana:
Seva Yojana is initiated by the Uttar Pradesh government to combat unemployment in the state.
The portal offers job opportunities to the state's unemployed youth.
Periodic Rojgar Melas (employment fairs) are organized as part of this initiative.
The primary goal is to alleviate ongoing unemployment and facilitate job placement for more young individuals.
Over 72 thousand vacant positions will be filled through sewayojan.up.nic.in.
Online application is mandatory for interested job seekers.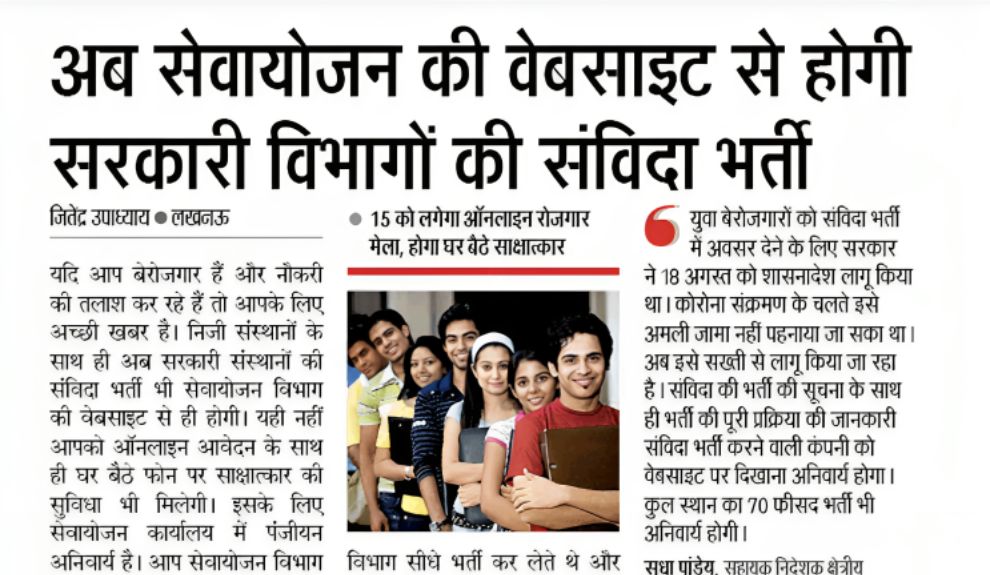 Benefits of UP Sewayojan:
All unemployed youth in the state are eligible to apply for this scheme.
The scheme is operational in over 70 districts across Uttar Pradesh.
It welcomes applications from educated youth, including those with 12th, graduate, and post-graduate qualifications.
Applicants will receive notifications via email.
Opportunities are available for both government and private sector jobs.
Participation in the Uttar Pradesh Employment Fair can facilitate job placement.
Online application facilities are accessible for ease of use.
Documents Required for Employment Fair Application:
To be eligible for the benefits of the Sewayojan Scheme, you must possess the following documents:
Citizenship Proof: You should be a resident of Uttar Pradesh.
Educational Qualification: You must have at least a 10th-grade education.
Aadhar Card: A valid Aadhar card is essential.
Residence Certificate: Proof of your residential address.
Mobile Number: A working mobile number for communication.
Passport Size Photo: Recent passport-sized photographs.
Identity Card: Any official identity card for verification purposes.
How to Register on Sewayojan Rojgar Portal Online:
Visit the official website. You can access the Rojgar Mela portal by clicking here.
Once on the official website, locate the "Rojgar Mela" option and select it. Refer to the image below for guidance.
Upon selecting this option, a new page will open, displaying the Sewayojan login page. To begin, click "New User Sign Up."
Your mobile device will receive an OTP (One-Time Password) after submission. Enter this OTP together with the captcha code to authenticate your registration..
Fill all the essential details in the form. You will also be able to submit a passport-sized picture. You may begin applying for employment via the port once you've submitted all of the essential information.al.
Sewayojan offers both government and private job opportunities. Make sure to remember the username and password you set during registration, as you will need them to log in to www.sewayojan.up.nic.in.    
Note: Your username and password are essential for logging in to www.sewayojan.up.nic.in, so keep them secure.
How to Search for Private and Government Jobs on Rojgar Sangam Portal:
The process of searching for jobs on the Rojgar Sangam portal in Uttar Pradesh is outlined as follows:
Searching for Private Jobs:
Visit the official website of Uttar Pradesh Employment Fair, which can be found at sewayojan.up.nic.in under the Employment Department UP.
On the homepage, locate and click on the 'Private Job' option.
You will be directed to a registration form page.
The department, district, recruitment type, recruiting group, post type, and all open positions should be chosen in this form. After that, select "Search."
On the screen after completion will be a list of available private employment openings.
Searching for Government Jobs:
To search for government jobs on sewayojan.up.nic.in, visit the official website of Uttar Pradesh Employment Fair, managed by the Employment Department UP.
On the homepage, locate and click on the 'Government Job' option.
You'll be sent to a page with a registration form.
Choose the necessary data from this form, including the department, district, recruitment type, recruiting group, post type, and all open positions. then select the 'Search' option.
A list of all the available government posts will then show up on the screen.
What to Do If You Want a Job in Uttar Pradesh:
If you're eager to learn how to navigate the UP Rojgar Mela website and apply for jobs, follow these steps carefully:
Visit the UP Sewayojan portal.
Log in to the portal using your credentials.
Upon successful login, your account dashboard will open, offering several options, including:
Dashboard
Profile Entry
Apply for Jobs
Leave Job
Mobile/Email Change
Change Password
Log Out
Choose "Apply for Jobs" in the drop-down menu.
Following your choice, you may move to the job's comprehensive description page and apply for it straight through the site.
Guidelines for Sewayojan Job Applications:
To be eligible for job applications on the Sewayojan portal, candidates must meet certain criteria:
Application requirements: Candidates must hold a diploma, ITI, graduate degree, or postgraduate degree from a board, university, or institute that is recognized as equivalent to the eighth, tenth, or twelfth grade.
Candidates must fall within the age bracket of 18 and 40.
To apply for employment through the platform, candidates must be Indian nationals.
By adhering to these guidelines and utilizing the UP Sewayojan portal, you can access a range of job opportunities and take steps towards securing suitable employment.
How to Log in to Sewayojan?
If you want to learn how to log in to www.sewayojan.up.nic.in, please carefully follow the steps below to access the employment fair portal.
Start by visiting the official employment website.
Select the "Login" option from the top side of the screen.
And then simply choose "Login" from the menu.
You must enter your username, password, and captcha code on the login screen.
You may login and start looking for jobs after providing the necessary information.
Forgot Your Rojgar Sangam Portal Password?
If you've forgotten your Rojgaar Sangam portal password, don't worry. Follow these steps to reset it:
Visit the official website.
The homepage of the official website will appear.
Click the "Forgot Password" link on the login page.
The possibilities include Jobseeker, Employer, Department Officers, Sewa Mitra, etc. on a new page that will appear.
Click the "Continue" button after selecting the one that best fits your profile.
You must then input the captcha code and your cellphone number on a new page that will appear.
After entering this data, press the "Continue" button.
You can use this procedure to get your lost password back from the Sewayojan portal.
Contact Information for Uttar Pradesh Employment Office:
Phone Number: 0522-2638995
Phone Number: +91-7839454211
Conclusion
In this Sewayojan Rojgar Sangam article, we have presented comprehensive information regarding Uttar Pradesh employment in the Hindi language. All details about the advantages, objectives, application procedure, required documents, and the process of accessing the Seva Yojana portal are provided. Please don't be afraid to call the helpline number if you run into any problems with this portal.
FAQs
Q. What is employment?
The Uttar Pradesh government has launched the sewayojan.up.nic portal to assist the unemployed youth of the state. Through this portal, the government offers job opportunities to educated unemployed youth. Eligible youth can secure employment by applying through this portal.
Q. What types of jobs are available on the employment portal?
The portal features both government and non-government job opportunities.
Q. Is there any fee for online registration on the employment portal?
No, there is no registration fee; you can access the benefits of this scheme free of charge.